Swimming Pool Supplies Sussex
Shop for all the swimming pool supplies, equipment and accessories you need to keep your pool, hot tub or spa clean and running optimally. Our East Sussex store stocks everything you need to run your swimming pool throughout the summer and keep it safe during the winter.
We're pleased to be able to offer free water testing and expert pool care advice, so don't hesitate to get in touch or visit our swimming pool supply store in Sussex.
Address: Unit 12 Sheffield Park Business Estate, East Grinstead Road, Sheffield Park, TN22 3FB.
Open:
Summer: Monday to Friday – 8am to 5pm
Winter: Monday to Friday – 8am to 4pm
We're located directly opposite the Bluebell Railway, and are easily accessible with parking spaces available.
Our swimming pool supplies
We're proud to stock everything you'll need to keep your pool, hot tub or spa going and keep it clean and safe to use. We consciously stock cleaning products that are good for the environment and energy efficient pumps, heaters and filters that reduce energy wastage and your running costs.
Our range of swimming pool products includes:
Swimming pool chemicals
Spa and hot tub chemicals
Pool testers
Fun pool accessories such as pool games and inflatables
Pool thermometers
Pool maintenance equipment such as pool brushes, pool cleaning nets, telescopic poles and vac hoses
Automatic pool cleaners
Pool vacuum heads
Swimming pool pumps
Pipe & fittings
Pumps
Skimmer
Underwater lights
Pool cleaning products
A wide range of equipment spares
A great variety of pool tile samples
We're also able to offer demonstration models of new pool cleaners we have available, so you can test them out and see how they work for your swimming pool.
We can help you find the tools and equipment you need for all types of swimming pools and hot tubs. Simply give our team a call on 01444 236578 or visit our East Sussex store for our expert knowledge and advice.
Hot Tub and Spa Gift Sets
Bring an added element of luxury to the spa experience for yourself or a loved one with our wonderful range of spa gift sets.
Find a new level of relaxation with our spa salts, spa bombs and elixirs, each collection offers delightful fragrances to suit every mood.
Currently available spa gift sets:
Spa Gift Set 1: Muscle Therapy Hot Tub Salts, Spa Eucalyptus (Menthol) and a Mentha Spazazz Spa Bomb – £39.95 including postage
Spa Gift Set 2: Hot Tub No Foam, Hot Tub Bromine Granules, Bromine Test Strips, 3 x Spa Bombs – Coconut, Honey & Lavender – £54.95 including postage
Spa Gift Set 3: Joint Therapy Hot Tub Salts, Spazazz Vanilla & Jasmine Hot Tub Elixir, Coconut Spa Bomb – £39.95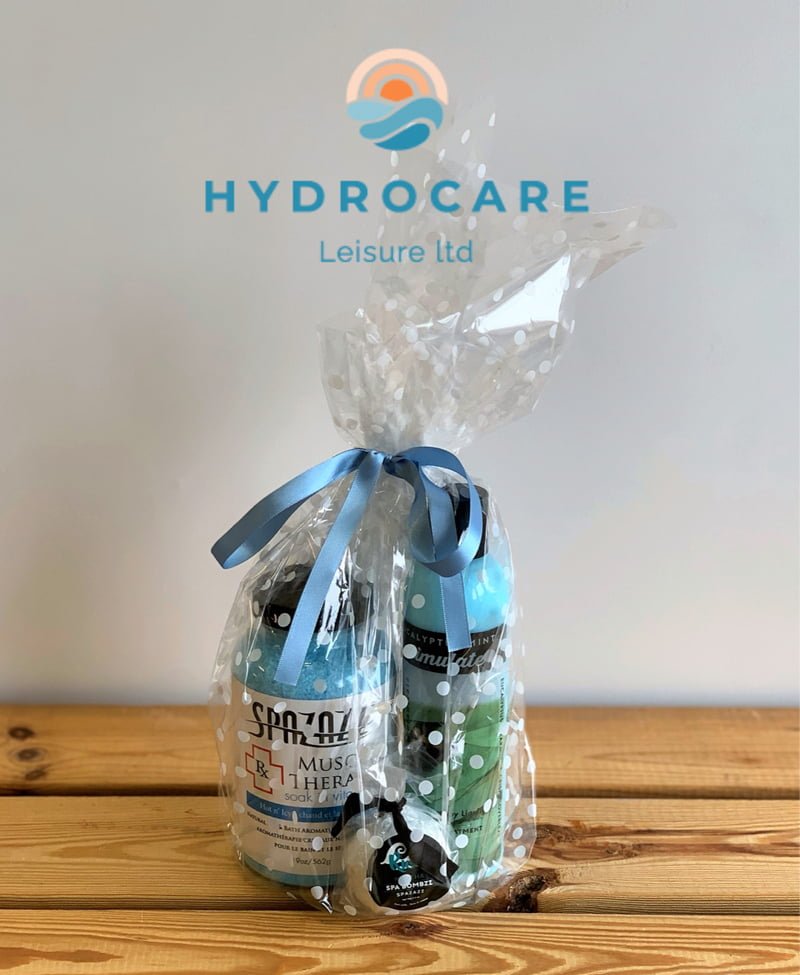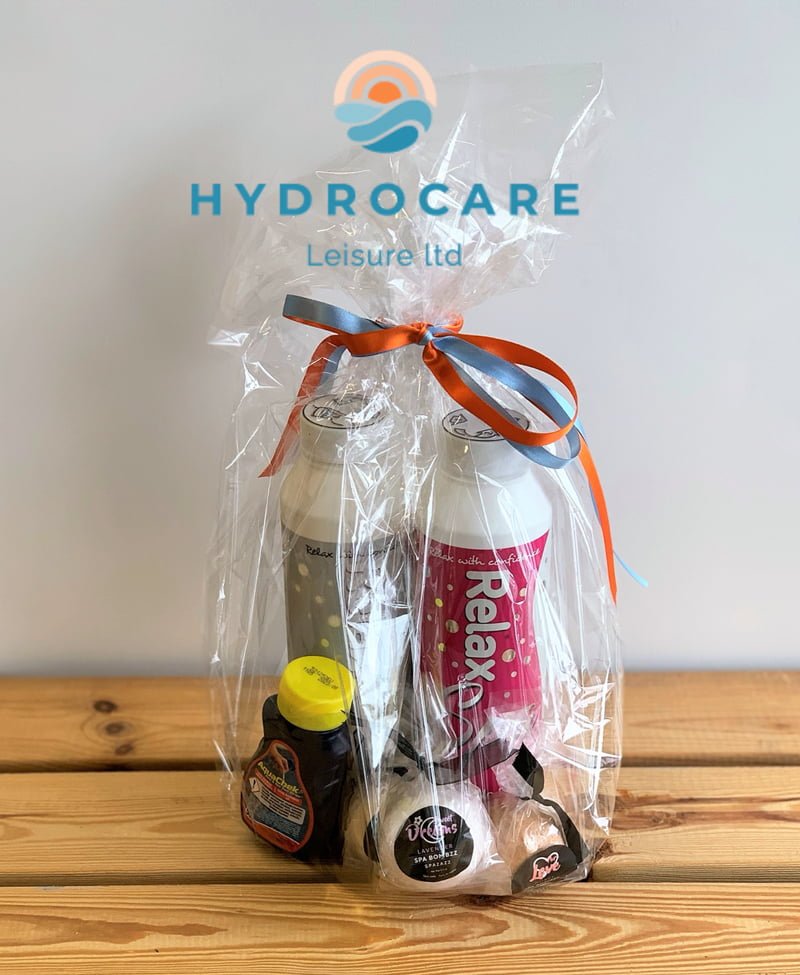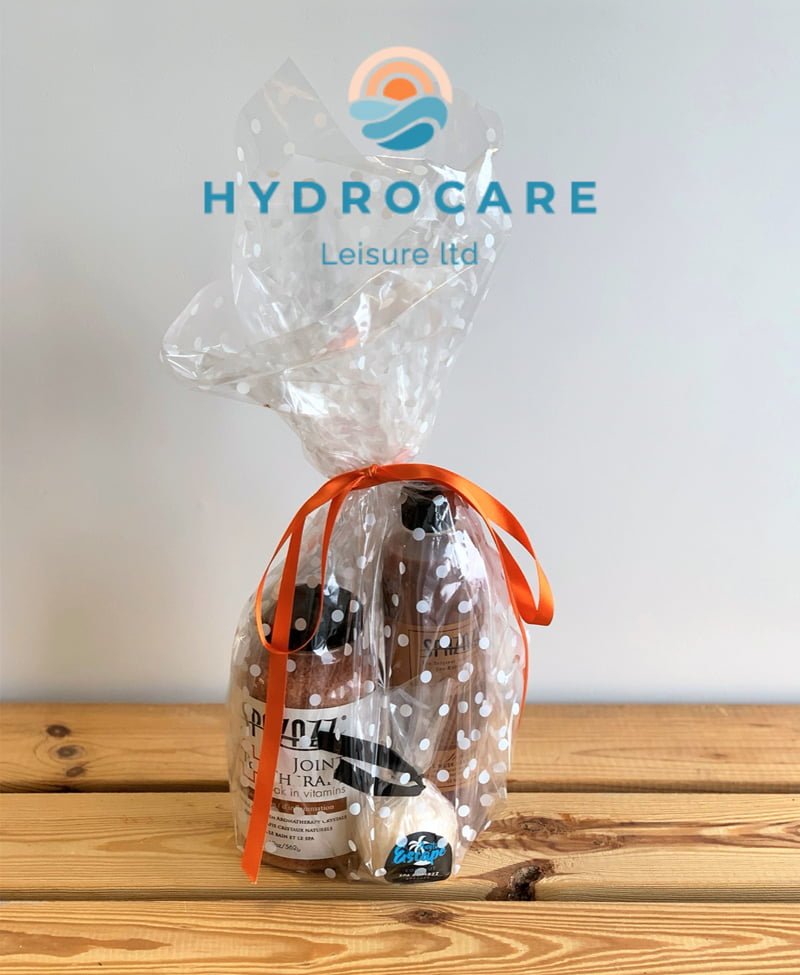 All available to purchase at our store at Unit 12, Sheffield Park Business Park, East Grinstead Road, Sheffield Park, East Sussex TN22 3QB. Or you can give us a call on 01444 236578 to speak to us about our spa gift sets and order.
Swimming pool chemicals and hot tub chemicals
In order to keep your pool or hot tub safe and healthy to use, you need to use the right chemicals to keep the water clean.
In our shop, you will find our high quality, excellent value Hydrocare brand pool and hot tub chemicals that will keep your swimming pool safe and gleaming, ready for you to use at all times. Our swimming pool chemicals are environmentally friendly and include:
Stabilised Pool Chlorine and Pool Shock Chlorine
pH+ balance chemicals
Algaecides (also known as Algicides)
Non Chlorine sanitisers
Pool cleaning chemicals and stain removers
Clarifiers
All of our cleaning products and chemicals are competitively priced and will leave your pool water crystal clear. If your pool water appears to be discoloured or cloudy, or you see any visible signs of algae then please get in touch and we will be happy to advise you.
Our expert team also carry out a range of pool servicing and maintenance services across Sussex, Surrey and Kent. Ask our staff about what we offer and how to book when you visit our supply store, or contact us today to find out more.