Hot tubs are a great way to relax, unwind and decompress and ensuring you're using them safely is key to making your hot tub even more enjoyable.
If you have, intend to use, or are thinking about investing in a hot tub it's worth remembering that there are a number of measures you can take to ensure that you, your family and your friends are able to enjoy all the benefits while staying safe and healthy.
Read our hot tub safety advice below and get in touch if you'd like to find out more about hot tubs for your home.
Hot tub safety tips
Get a professional to install the hot tub
Age restrictions & child safety
Using a hot tub whilst pregnant
Hot tub temperature regulation
Hot tub pH and chemical balance
Hot tub hydration
When to use your hot tub
Moving in and around the hot tub safely
Following these simple hot tub safety tips can help you make the most of your hot tub experience.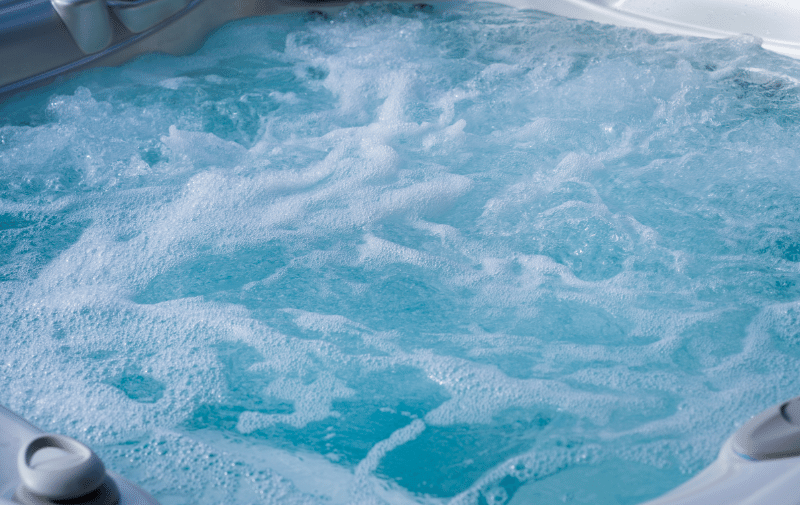 Hot tub installation is a specialist job that shouldn't be undertaken by just anyone. There are rules and regulations that need to be adhered to, so ensure you're purchasing your hot tub from a reputable company.
At Hydrocare, our expert and professional team are fully trained in installing hot tubs safely and will always undertake a site survey beforehand to ensure:
A strong, level base for the hot tub to sit on
All electrics can be installed safely and fully certified
There's the proper access for our equipment to install the hot tub
We're able to move the spa safely into place with no issues
Age restrictions & child safety
There are no current rules in the UK dictating the minimum age requirements for private hot tubs and spa use, but in many public gyms, spas and health centres these facilities are open only to those aged 16 or over.
It's recommended that children under the age of 5 should avoid the use of hot tubs. Children over 5 should limit use to a maximum of 5-minute intervals. For young children, prolonged exposure to a temperature of between 25°C-40°C can potentially put them at risk of serious dehydration.
In all circumstances, if children and young adults intend to use a hot tub or spa they should do so under adult supervision. A secure hot tub cover should always be in place when not using a hot tub.
Pregnancy
Although the research into the potential implications of hot tub, sauna and spa use by pregnant women is minimal, the general consensus is that it should be avoided.
We recommend speaking to your doctor before hot tub use.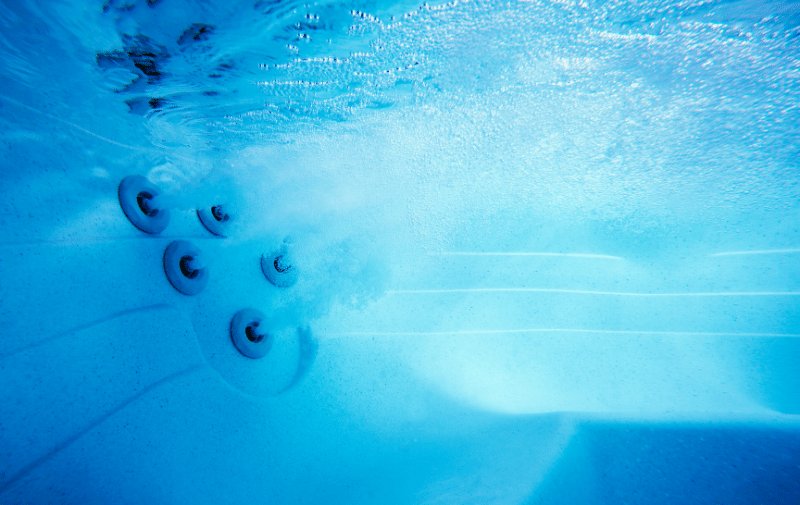 Maintain a hot tub temperature of between 36°C-38°C (most hot tubs are factory set at 38°C), not exceeding a maximum temperature 40°C (for adults). If in use by children and young adults we recommend a temperature not exceeding 35°C.
Hot tub hygiene
Remember to clean and sanitise your hot tub regularly, and use test strips to ensure the pH and chemical balances are within safe parameters.
Just like swimming pools, if pH levels and chemical balances are not properly maintained hot tubs can become a perfect breeding ground for all sorts of bacteria and germs.
The recommended temperature for your hot tub is between 25°C-35°C, not exceeding a maximum of 40°C/104°F. Coincidentally this is the ideal growth temperature for bacteria, and without the addition of chemicals such as chlorine (or bromine which can be kinder to the skin), it could very quickly become a health hazard for any hot tub users.
Our Sheffield Park pool & hot tub store stocks everything you'll need to keep your hot tub clean, including cleaning chemicals and test strips.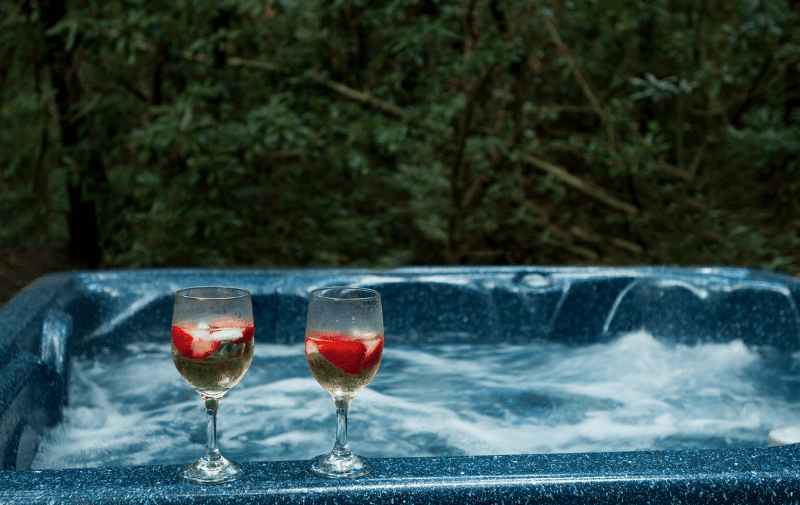 Take care to drink plenty of fluids during and after using a hot tub to avoid overheating and dehydration.
The consumption of alcohol when using a hot tub is not recommended as it can not only inhibit decision making and motor function but also considerably increases the chances of adults experiencing extreme dehydration.
When to use
Use around 90 minutes before bed can help aid sleep, but where possible, avoid using the hot tub immediately before bed to avoid your body temperature dropping too rapidly.
It's always tempting to spend hours relaxing in the hot tub but the hot water can cause you to overheat. Ensure you don't stay in the tub for more than 30 minutes at a time, to avoid health and safety risks such as heat stroke.
Movement
Consider installing anti-slip mats in and around the hot tub to avoid slipping when getting in and out. Water can easily spill over the edges, so having these extra health and safety measures in place will help to avoid accidents.
As with swimming pools, it's best to avoid running on wet surfaces surrounding the hot tub.