Few things scream luxury, rest and relaxation as much as your own personal swimming pool, and although they can be a significant investment there's a very good chance you'll add value to your home. But whether you're wanting to swim lengths like Michael Phelps, or simply while away summer days lounging on an inflatable lilo there are a number of important things to consider before taking the plunge. We've put together this checklist to help you make the right decision for you, and to ensure that you'll continue to enjoy your pool for years to come.
For more than 25 years we've helped clients throughout Sussex, Surrey, Kent and the South East design and construct their dream swimming pools. Get in touch today for a free, no obligation quote for all your swimming pool needs, including construction and ongoing maintenance.
1.Do you need planning permission for a swimming pool?
UK building regulations and planning permissions can often be tricky to navigate, and the rules surrounding swimming pool construction are no less confusing. The following is applicable at the time of writing, but we would always recommend speaking to one of our experts, as well as your local authority before proceeding with any works.
Outdoor Pools
Typically outdoor pools do not require any planning permission as they are considered 'garden projects'. There are exceptions to the rule, and although they may not require planning permission they will be subject to Class E regulations (Permitted Development Rights for Householders).
Permitted Development:
In its simplest form the permitted development rule allows for the erection of any structure (think pool house, garden shed etc) that covers less than 50% of the original outdoor space of your property. Any extension works or detached garages built after 1948 are not subject to this equation, and should not be included in the total internal area covered by your home.
Exceptions to the rule:
If your property is a listed building, or is located within one of the following areas you will need to obtain planning permissions:
World Heritage Site
National Park
Area of Outstanding Natural Beauty
Conservation Area
Indoor Pools
The rules surrounding the construction of indoor pools are perhaps even less clear. In many circumstances planning permission will be required, but this may vary from council to council. A covered 'indoor pool' which is built externally (i.e. in your garden) will typically still be permissible under the permitted development regulations.
Because of the complex nature surrounding planning permissions and building regulations we strongly recommend speaking with an industry expert from day 1.
2.How much do swimming pools cost?
When it comes to building a swimming pool the costs can vary and the overall cost of your swimming pool will be determined by factors including:
Size
Location
Ground conditions
Construction materials
Whether you intend to build an indoor or an outdoor swimming pool
Whether you intend to build an overground or in ground swimming pool
Whether or not it will include a heating system
How much of the year you intend to use it
3.How to heat a swimming pool
Unfortunately, as we're sure you've noticed, the UK climate is far from tropical and chances are you'll want some form of heating. Consider the following options (and potential running costs) for those days when hot weather feels like a distant memory:
Solar Cover: Evaporation is one of the major causes of heat loss in swimming pools. A solar cover works to absorb heat from the sun whilst reducing the heat lost through evaporation. On a hot summer's day the top 6-8 inches of water will bath water temperature as the sun's rays are magnified through the cover. There are several different grades of Solar Covers but they all work on the same basic principle.
Traditional Heating: Gas and Oil heaters can be the best option for many customers. If quick temperature changes are preferable then these are the best type of heaters. Also, if a Christmas day swim in your outdoor pool is a possibility, then it is absolutely possible to heat the water in a few days. The only downsides to Oil heating especially are the running costs and of course the environmental aspect. Gas heating is more expensive than a Heat Pump to run but it is by no means the most expensive either.
Direct Electric: This is by far and away the most expensive form of heating. It is generally only used on small above ground pools or as back-up for a different primary heat source.
It is however one of the fastest ways to heat a large body of water.
Heat pumps: Heat pumps have become the most popular form of swimming pool heating over the last 10-15 years with technology advancing their efficiency greatly in that time. It is the most efficient form of swimming pool heating, often seeing huge running cost reductions following a new installation replacing direct heating. Where possible a good Heat pump would be our recommendation with the right machine able to heat the water all year round, AND cool the water if needed.
Top tip: Use a combination of the above heating methods and ensure that your pool is well insulated to enjoy temperate water year round. And if you are not in the pool make sure your pool cover is on. Why let the heat escape if you can avoid it?!?
4.What style of swimming pool is best?
When it comes to style the possibilities are limitless. There are a huge range of styles, shapes, sizes and types to choose from. Is your heart set on an outdoor pool, or perhaps even an infinity pool? Or maybe an indoor in-ground pool, plunge pool or lap pool?
We can help you to design the pool of your dreams, however simple or extravagant that may be. Use our state of the art CAD design service to create something truly unique. Check out our portfolio for a better idea of what we can achieve for your pool.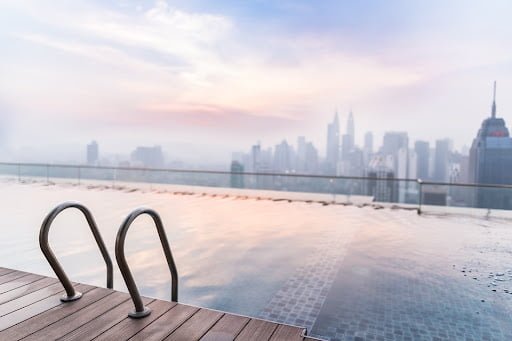 5.Are swimming pools easy to maintain?
How easy your swimming is to maintain depends on a number of factors. For example some in-ground concrete pools can require a higher level of ongoing maintenance in comparison to fibreglass pools.
What type of cover do you have? A well maintained Safety Cover will keep 90% of debris out of a swimming pool compared to a solar cover.
Do you have an automatic cleaner? Although the initial outlay has to be considered, how important is your time? A good cleaner will potentially take hours off of your weekly cleaning routine.
Pool maintenance should include, but most certainly isn't limited to:
Water balancing
Cleaning and servicing of interior walls or lining, i.e. brushing to agitate any algae forming
Servicing and maintenance of filtration system, i.e regular backwashing
Servicing and maintenance of solar and debris covers
We offer bespoke maintenance, servicing and cleaning contracts as well as one-off services and cleans.
6.Where should my pool go?
The factors determining the ideal placement for your pool can be split into two categories – personal preference, and legality.
Personal preferences:
Privacy
Sunlight
Ground conditions (eg. choosing to build your pool on particularly sloped ground will likely increase build costs considerably)
Aesthetics
Legal obligations:
Pools may be constructed no less than 5 metres from your dwelling
Pools may be constructed no less than 1 metre from your dwelling boundary
7.Do I want any other amenities around my swimming pool?
Once you've decided what kind of pool you would like, where you would like it to go and how you might go about heating it you'll probably want to consider any additional amenities that may complement the build. Are you going to build changing rooms, or perhaps even a spa with a sauna and hot tub? Remember, if you are planning to build within the permitted development guidelines you'll need to factor in any additional area taken up by these amenities.
8.How long does a swimming pool take to build?
Once again this depends on numerous factors, including the unpredictable British weather. As a very rough guide we would allow for 2-3 weeks for a simple above ground pool whilst a more complex in ground concrete pool may take closer to 2-3 months. We will do our best to provide you with a more accurate timescale alongside your personalised quote.
9.Can I use my swimming pool all year round?
In short, yes! The 'swimming pool season' is typically May through to September, but with the proper insulation and heating you can enjoy the pool year round.
10.Can I have an eco friendly swimming pool?
At Hydrocare we're passionate about doing our part to create a greener, more sustainable future. There are a number of ways you can improve the environmental friendliness of your pool, including but not limited to:
Using solar energy to trap and generate heat
Installing a HeatForm insulated pool system, potentially reducing energy consumption by 50% in comparison to a standard concrete pool
Minimise the amount of manmade chemicals used by opting for a saltwater chlorinator
Adding a UV system to reduce chemical use
If you'd like to know more about how you could reduce the carbon footprint of your pool get in touch today and one of our friendly team will be more than happy to discuss this with you.
Enquire about swimming pool installation
Call us today on 01444 236578, or email us at enquiries@hydrocare.co.uk to find out how Hydrocare could help your dream become reality. As members of the industry trade association SPATA (Swimming Pool and Allied Trades Association) we are able to provide a range of added benefits and protection to our clients, and our engineers are individual members of ISPE (Institute of Swimming Pool Engineers), giving you the peace of mind that your dream pool will be just that.